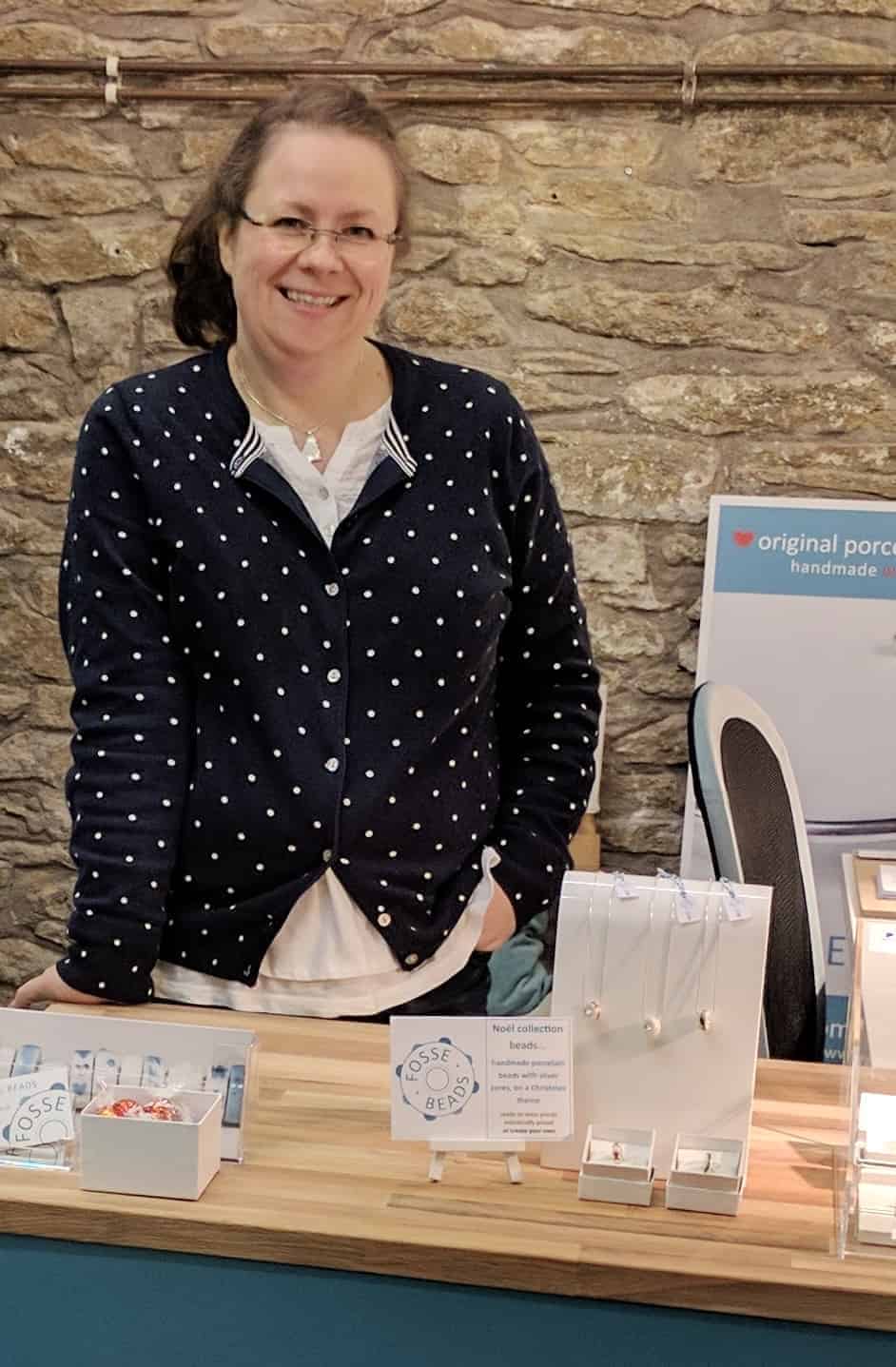 Hello, and a warm welcome to my online shop.
Let me introduce myself, and explain a little about my concept for Fosse Beads and Friends.
I am Suzi, and I have been designing and making my Fosse Beads since 2015, initially working from home in the heart of Somerset by the ancient Roman Fosseway, which was the inspiration for the name of my beads. I am a graphic design & illustration graduate, and had a very successful and rewarding career teaching 11-18 year olds, as the Head of Art of two secondary schools. I was hugely inspired by a ceramic glazing course I attended in 2015, and I now enjoy the opportunity to explore my own creativity…
I opened my first shop in a little studio inside the Black Swan Arts centre in Frome, then on 6th February 2018, Fosse Beads and Friends was launched when I moved my beads from Studio 3 into the larger gallery shop at the front of the building. I showcase a very carefully chosen and curated collection of work from a talented group of artists, designers and makers (the Friends) many of whom are local to Somerset. The Fosse Beads range of handmade porcelain charm beads has also expanded to include a Studio Collection of complementary porcelain jewellery, including Artist's Palette and Stormy Weather collections. I still design and handmake every bead and every piece of my porcelain jewellery – it's all about the details, I always pay great attention to the finishing touches and details in my work. Having proved particularly popular in the shop, I also sell my Artist's Palette range through a number of National Trust shops, and other art galleries and creative businesses.
Over the last two-and-a-bit years I have worked hard to create a really vibrant, stylish gallery shop filled with beautiful examples of applied arts – cards, ceramics, glasswork, jewellery, leatherwork, metalwork, printmaking, textiles, woodworking, plus some lovely indulgences. Many of these pieces are available for you to purchase here on this website, which showcases some of the talented artists from my shop as well as some of my own pieces. I'm delighted to say that, despite all that the last 12 months or so has thrown at us, we have continued to expand our online offering, and have now moved to a lovely new, much larger shop in Castle Cary, in the beautiful Grade II listed Old Bank House building on the High Street…